Minister of State for Higher Education Mary Mitchell O'Connor to launch Eurostudent VI today

Source: Keith Heneghan
MORE THAN A THIRD of postgraduates in Ireland face serious financial problems, according to a new report on their living conditions.
The Eurostudent VI study, the sixth report of its kind on how students experience university life, is due for release today. Over 20,000 students responded to the survey.
The overall average monthly income for all students was € 754, while the average living expenses were € 832 (of which 42% was provided by someone other than the student, usually a parent or partner) , according to the findings of the report.
Housing was the biggest expense (4% of overall expenses), with an average monthly expense of € 365.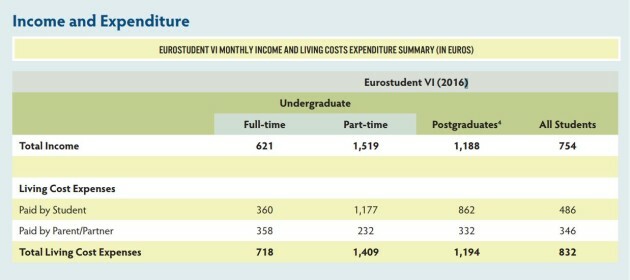 Source: Eurostudent VI study
More than a third (around 36%) of the total student body reported experiencing serious or very serious financial problems, and the extent to which they experience this appears to be related to their age. Older students were more likely to experience financial difficulties, with 42% of students over 24 saying they did.
Since the last Eurostudent report in 2013, the average monthly income has increased for all groups except postgraduates. The average monthly cost of living has remained relatively stable.
For full-time undergraduates and all postgraduates, the distribution of costs is now borne to a lesser extent by the students themselves, who have become more dependent on having these costs borne by their own. parents and partners.
Source: Eurostudent VI study
Some 32% of the total student body receive funding from a national non-refundable student source such as a Student Universal Support Ireland scholarship, or money from the Irish Research Council.
Most higher education students take undergraduate courses (85%). The majority of these undergraduates study full time (77%), while only 8% of undergraduates study part time. Postgraduate students make up 15% of the total student body, and of that number 8% study full-time and 7% study part-time.
Since the previous survey in 2013, the number of students enrolled in higher education has increased by 7.8%.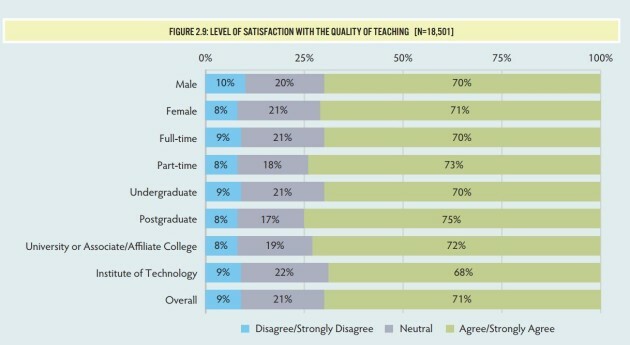 Source: Eurostudent VI study
Overall, students reported high levels of satisfaction with the quality of the education they received during their course (around seven out of ten students in each group, as noted above).
Gender balance
While the gender balance at the tertiary level is relatively even, a higher proportion of women has been found in certain fields of study, such as education, service, social sciences, and humanities and the arts. .
Male students, in comparison, were found more in the fields of engineering, manufacturing, construction, math, IT, IT, sports and recreation. Similar proportions of male and female students were found in science and business.
A higher proportion of male students attend institutes of technology than females, and a higher proportion of female students are in associated / affiliated universities or colleges.
Mature students represent 22% of the total student population and have an average age of 36.3 years (34.4 years for full-time students and 39.2 years for part-time students). Of the part-time undergraduate student population, 90% are mature students.
Mature students are more likely to attend institutes of technology than universities or their associated / affiliated colleges. Mature students are also more likely to study at higher education institutions outside of Dublin.
#open journalism
No news is bad news
Support the journal
Your contributions will help us continue to deliver the stories that are important to you
Support us now
Children
The survey indicates that 12% of the total student population have children. This is two percentage points more than what was observed in the last Eurostudent report. However, this increase is unevenly distributed among the students.
Of the full-time undergraduate population, only 6% of students have children, compared to 10% in the Eurostudent V study.
Of the part-time undergraduate population 48% have children, while in Eurostudent V this figure was 45%.
For postgraduate students, 11% of full-time students have children and 47% of part-time students have children. Of the postgraduate population as a whole, 27% have children, which is similar to the level of 28% seen in the previous report.
Disability
Overall, about 20% of all students reported having a disability. A higher level of disability is noted for full-time students than for part-time students.
The fields of study with the highest proportions of students with disabilities are catering, humanities and the arts, and social sciences. The fields of study with the lowest proportions of students with disabilities are education and health and wellness.
The most frequently reported disabilities are mental health problems and learning disabilities. About 8% of students with disabilities consider that their disability severely limits their studies
Minister of State for Higher Education Mary Mitchell O'Connor to launch the Eurostudent VI study during her visit to the Mayo campus of the Galway-Mayo Institute of Technology (GMIT) in Castlebar today ' hui.
Commenting on the report, Mitchell O'Connor said: "Having access to high-quality data and hearing from more students about their higher education experience is essential to inform sound policy decisions to ensure we make the right decisions. good things for our cohort of students. "
Read: Most Irish university graduates are employed in Dublin and Cork

Read: Seven asylum seekers and refugees will receive scholarships to study at UCC